Gnomegrown Mushrooms
~the gnomegrown difference~
Here at Ye Olde Gnomeplace, we offer a wide variety of delectable, gourmet mushrooms and mushroom products. While many mushroom farms rely on high-tech growing facilities using artificial lighting, computer-controlled climates, Fiberglass Re-enforced Plastic and energy-intensive HVAC systems , we prefer to employ a more passive method of mushroom production centered around the Princples of Permaculture and Ecological Design. Our mushrooms are grown on locally-sourced, nutrient-rich agricultural byproducts, under lightly-diffused sunlight and moonlight, using filtered, mineral-rich gravity-fed mountain spring water and cool mountain air. What difference does that make? Come find us on Saturday at the Old Cobblestone Market in Winston-Salem, NC and see for yourself! You can also find our mushrooms distributed through Good Food Good People at the Floyd Farmer's Market , the Blacksburg Community Market, and at the Grandin Village Market and Downtown Market in Roanoke, VA every Saturday. Be sure to check out our Recipes page for some culinary fun-go-phyllic inspiration.
Baskets O' Glory
Our gourmet mushroom mixes feature a unique, seasonal blend of cultivated and freshly-foraged fungal bounty. Add a little butter, garlic, salt and pepper for a taste of some of the fifth kingdom's finest fare!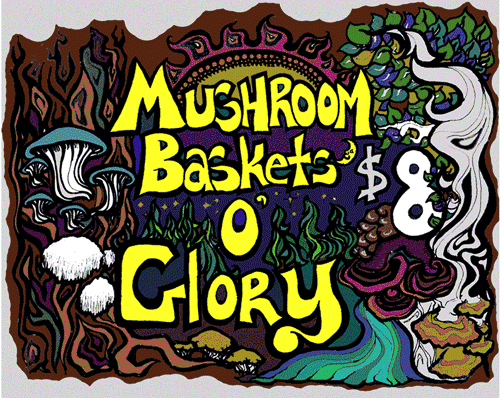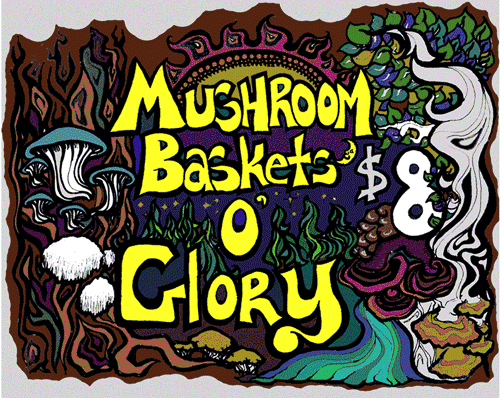 The Blue European Oyster is a meaty spring and fall favorite. It has a slightly nutty flavor and is one of our most versatile mushrooms, easily incorporated into sautés, stir fries, baked dishes. The Old World Blue remains one of our favorites to mix with seasonal veggies in an Oyster Egg Scramble. Pleurotus ostreatus has also been shown to lower cholesterol(1) and has clinically beneficial effects on liver and kidney tissue(11). It's also delicious. See our Recipes page for some inspirational Oyster awesomeness.
Old World Blue Oyster
(Pleurotus ostreatus)
Shiitake
(Lentinus edodes)
The Shiitake mushroom is one of the most highly prized delicasies in all of Asia! It's unique, deeply-savory flavor combines a smoked meatyness with strong notes of umami. Aside from being one of the most delicioius mushrooms in the world, Lentinus edodes has been revered for a long time in Japan, China and Korea for its healing properties. Shiitake mushrooms posses a powerful beta-glucan called Lentinan, which has been demonstrated in vitro to increase white blood cell count and used as an adjunct cancer therapy in Japan for decades. A recetly discovered heteropolysaccharide in Shiitake mushrooms is being studied for its anti-tumor activity and immune-system stimulation(v111).
The Pink Oyster is a beautiful and delicious tropical addition to the Oyster enclave. It's unique seafood flavor and texture distinguish it from the other Pleurotus species, gastrognomically speaking. It is high in protien and makes an incridble addition to roasts, stir fries, fertadas and fried eggs. This colorful, cholesterol-lowering mushroom is one of our favorite to marinate and grill in our kimchi marinade. See our Recipes page for our pleurotially-perfect pairings, and some delicious mushroom fare-ings!
Salmon Oyster
(Pleurotus djamor)
​
Phoenix Oyster
(Pleurotus pulmonarius)
The Phoenix (Italian/Indian) Oyster is a warmer weather species of Pleurotus that often has a unique, ruffled edge and a slight shrimp flavor. This summer Oyster is a beautiful, delicious mushroom with mild flavor and wide versatility in many dishes. Pleurotus pulmonarius has also been shown to demonstrate (colonic)anti-inflammatory(111) and hypoglycemic activity(1v).We usually cook them with some variation of lots of butter and garlic.
Lion's Mane
(Hericium erinaceus)
The Lion's Mane, also known as Satyr's Beard, is an incredibly delicious mushroom with savory flavors of lobster and scallop. We also find the texture deeply satisfying, especially when the mushrooms are seared for the last minute on the stove and browned on the edges. Add a little white wine or dash of sherry, a bit o' butter n' garlic and a tiny pinch of salt and see why these mushrooms are a gnomestead favorite. Lion's Mane (Hericium erinaceus) is not just unique in appearance and flavor, it is also a powerhouse of medicinal compounds that help regenerate nerve-growth(v), increase antioxidant activity(v1) and help improve immune system function(v11).
Golden Oyster
(Pleurotus cintrinopileatus)
The Golden Oyster has a nuttier taste than many of the other Oysters, also maintaining one of the nicest textures at higher heat than its Pleurotus counterparts. This tropical species has made its migration up the east coast from the tropics/subtropics and can be found in the mid-west and northeast states today. Whole fruitbodies can be plucked and seared in the pan with padrons/peppers, garlic and butter for an incredible appetizer or main meal addition. P. cintrinopileatus has been shown to lower HDL (Cholesterol), and it is as delicious as it is diverse in its culinary appeal.
Our passion for foraging carries us from coast to coast. We have a delicious assortment of fresh and dried, seasonal, wild mushrooms throughout the year. Try our Dried Mushroom Soup Mixes and enjoy a savory blend of some of the most incredible, edible WILD mushrooms between the Blue Ridge and the Cascades.
Pacific Golden Chanterelle
(Cantharellus formosus)
Lobster Mushroom
(Hypomyces lactifluorum)
Cauliflower Mushroom
(Sparassis crispa)
Porcini
(Boletus fibrillosus)
Matsutake
(Tricholoma magnivelare)
King Bolete

/

Porcini
(Boletus edulis)
GYO (Grow Your Own) Oyster Mushroom Kits!
Special order your kit to unveil an abundance of fruiting fungal magic! These kits will produce numerous flushes of oysters as long as you give them love (and some water, of course!). We have kits available at the Old Cobblestone Farmer's Market in Winston-Salem, NC or....special order an Old World Blue, Pearl or Golden Oyster kit from us via our Contact page!
Reishi

/

Linzhi
(Ganoderma lucidum)
Chaga
(Inonotus obliquus)
The Reishi mushroom has been recognized as a medicinal mushroom for over 2000 years. It's name in Chinese (Linzhi) confers its essence as the mushroom of spiritual potency and immortality. In Japan (Reishi/Mannetake), Ganoderma lucidum is known as the "10,000 year mushroom." Reishi is generally considered the proverbial King of medicinal mushrooms because it produces polysaccharides and a unique class of triterpenoids (known as ganoderic acids) which have a very broad spectrum of biological activities and medical functions. From protecting the liver and kidney(x) to boosting the immune system, this mushroom is a great addition to any daily diet regimen. In addition to Reishi's bioactive molecules (polysaccharides, triterpenoids, steroids, glycoprotiens, nucleotides and their derivatives, phenols), mushroom proteins contain all the essential amino acids and are especially rich in leucine and lysine, which help stimulate muscle protien synthesis and help the body repair itself (1x). Many of the anti-tumor, anti-viral and anti-baterical properties of the Reishi mushroom can be extracted with hot water into a warm cup of Reishi coffee or tea! However, if you are looking for some serious immune system stimulation, we've got the triple-extract Reishi Rai Loux in tincture.
Chaga has been used as a folk remedy for people in Northern and Eastern Europe for centuries, similar to the way its eastern conk counterpart, Reishi, has been used in the near east. The Norwegian name for this fungi is "kreftkjuke," se llama "cancer polypore", which is speculated to be attributed to its cankerous form or its reputed cancer-fighting properties. As far as it's taste is concerned, we find Chaga tea to be one of the least bitter decoctions we have made. While it tends to be distributed in the northern birch forests of the world, we have found Chaga growing in the south at higher elevation among a close cadre of other boreal forest fungi. Laboratory studies on extracts of Inonotus obliquus have indicated possible future potential in cancer therapy,[12] as a source of antioxidants,[13] in immunotherapy,[14] and as an anti-inflammatory.[15] ] Inonotus obliquus has been used for cleansing and disinfecting, and prepared decoctions have been used to treat stomach diseases, intestinal worms, liver and heart ailments, and as an adjunct cancer treatment. Here at Ye Olde Gnomeplace, we enjoy making super-potent hot water extractions of Chaga, infusing this decoction (and Reishi tea) with 100% Arriba Nacional Cacao to create raw chocolate truffles of pure, gnomemade bliss! Chaga tea is also a gnomestead favorite! We add just a touch of grade B Maple Syrup to our brew for a delicious pot o' prophylactic ambrosia.
Reishi/Chaga-Cacao Truffles


Raw Reishi-Chaga-Turkey Tail Cacao Truffles are available at the Farmer's Market and by special order. They are made with 100% Organic ingredients from Wilderness Poets, a small family company that sources the best of the best of the best ingredients in this whirled!! Sweetened only with medjool dates, vegan, and gluten-free....these treats are feel good, nourishing, medicinal gems! Taste one. Seriously.


(xi) ISRN Oncol. 2012; 2012: 251632.
Published online May 30, 2012. doi: 10.5402/2012/251632
PMCID: PMC3369477
Phase 1 Clinical Trial of Trametes versicolor in Women with Breast Cancer
Carolyn J. Torkelson, 1 ,* Erin Sweet, 2 Mark R. Martzen, 2 Masa Sasagawa, 2 Cynthia A. Wenner, 2 Juliette Gay, 1 Amy Putiri, 2 and Leanna J. Standish 2
http://www.ncbi.nlm.nih.gov/pmc/articles/PMC3369477/
(x) Am J Chin Med. 2001;29(3-4):501-7.
Evaluation of the hepatic and renal-protective effects of Ganoderma lucidum in mice.
Shieh YH1, Liu CF, Huang YK, Yang JY, Wu IL, Lin CH, Li SC.
http://www.ncbi.nlm.nih.gov/pubmed/11789593
(1x) Herbal Medicine: Biomolecular and Clinical Aspects. 2nd edition.
Chapter 9. Ganoderma lucidum (Lingzhi or Reishi)
A Medicinal Mushroom
Sissi Wachtel-Galor, John Yuen, John A. Buswell, and Iris F. F. Benzie.
http://www.ncbi.nlm.nih.gov/books/NBK92757/
(v111)J Agric Food Chem. 2012 Nov 21;60(46):11560-6. doi: 10.1021/jf304364c. Epub 2012 Nov 12.
Structure and immuno-stimulating activities of a new heteropolysaccharide from Lentinula edodes.
Xu X1, Yan H, Zhang X.
http://www.ncbi.nlm.nih.gov/pubmed/23106232
(v11) Int J Med Mushrooms. 2011;13(1):33-9.
Potential activity of aqueous extract of culinary-medicinal Lion's Mane mushroom, Hericium erinaceus (Bull.: Fr.) Pers. (Aphyllophoromycetideae) in accelerating wound healing in rats.
Abdulla MA1, Fard AA, Sabaratnam V, Wong KH, Kuppusamy UR, Abdullah N, Ismail S.
http://www.ncbi.nlm.nih.gov/pubmed/22135902
(v1)Int J Biol Macromol. 2013 Jan;52:66-71. doi: 10.1016/j.ijbiomac.2012.09.009. Epub 2012 Sep 19.
Evaluation of in vivo antioxidant activity of Hericium erinaceus polysaccharides.
Han ZH1, Ye JM, Wang GF.
http://www.sciencedirect.com/science/article/pii/S0141813012003637
(v) Biological and Pharmaceutical Bulletin
Vol. 31 (2008) No. 9 P 1727-1732
Nerve Growth Factor-Inducing Activity of Hericium erinaceus in 1321N1 Human Astrocytoma Cells
Koichiro Mori1) 3), Yutaro Obara1) 2), Mitsuru Hirota4), Yoshihito Azumi3), Satomi Kinugasa3), Satoshi Inatomi3), Norimichi Nakahata1) 2)
1) Department of Cellular Signaling, Graduate School of Pharmaceutical Sciences, Tohoku University 2) 21st Century COE Program "CRESCENDO", Graduate School of Pharmaceutical Sciences, Tohoku University 3) Mushroom Laboratory, Hokuto Corporation 4) Department of Bioscience and Biotechnology, Faculty of Agriculture, Shinshu University
Released 2008/09/01
(1v) International Journal of Medicinal Mushrooms.
DOI: 10.1615/IntJMedMushr.v4.i4.60
Antioxidant, Anti-inflammatory, and Antitumor Activities of Culinary-Medicinal Mushroom Pleurotus pufmonanus (Fr.) Quel. (Agaricomycetideae)
Nayana Jose
Amala Cancer Research Centre, Amala Nagar, Thrissur 680 553, Kerala, India
Thekkuttuparambil A. Ajith
Department of Biochemistry, Amala Institute of Medical Sciences, Amala Nagar, Thrissur, Kerala, India
Kainoor K. Janardhanan
Department of Microbiology, Amala Cancer Research Centre, Amala Nagar, Thrissur 680 555, Kerala, India
http://www.dl.begellhouse.com/journals/708ae68d64b17c52,72e968661ff5d957,6e3d61ce400def1e.html
(111) British Journal of Nutrition / Volume 103 / Issue 03 / February 2010, pp 393-402
Nutritional Immunology
Orally administered glucans from the edible mushroom Pleurotus pulmonarius reduce acute inflammation in dextran sulfate sodium-induced experimental colitis
Iris Lavia1, Dana Levinsona2, Irena Peria1, Lili Nimria1, Yitzhak Hadara2 and Betty Schwartza1 c1
(11) BMC Complement Altern Med. 2014 Dec 15;14(1):494.
Pleurotus ostreatus opposes mitochondrial dysfunction and oxidative stress in acetaminophen-induced hepato-renal injury.
Naguib YM1, Azmy RM, Samaka RM, Salem MF.
http://www.ncbi.nlm.nih.gov/pubmed/25510860
(1)Annals of Nutrition and Metabolism, Vol. 35, No. 4, 1991 .
Cholesterol-Lowering Effect of the Mushroom Pleurotus ostreatus in Hereditary Hypercholesterolemic Rats
Bobek P. · Ginter E. · Jurčovičová M. · Kuniak L.
Institute of Human Nutrition Research; bUniversity of Chemical Technology, Faculty of Biotechnologies, Bratislava, CSFR.
These statements have not been evaluated by the Food and Drug Administration (FDA). This product is not intended to diagnose, treat, cure, or prevent any disease. Please consult a medical professional before use of dietary supplements.
© 2018 by Gnomestead Hollow Farm and Forage.